KSB Benefits from Power Station Boom in China
China is the power station market with the strongest growth in the world. The pump and valve manufacturer KSB is currently benefiting from the rising economic power's hunger for energy. In the first half of 2005, the company received orders for equipping new plants in the amount of € 60 million.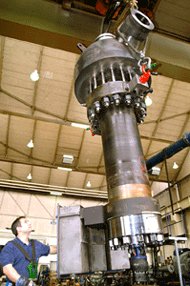 Boiler recirculation pumps such as this LUVA from Frankenthal are also being used in Chinese power stations. (photo: KSB Aktiengesellschaft, Frankenthal)
For approximately € 25 million, KSB AG in Frankenthal, Germany, will supply boiler feed and recirculation pumps, cooling water pumps and auxiliary pumps for Chinese power station facilities. The remaining pumps and valves to the value of some 35 million euros will be supplied mainly by KSB's Asian companies.
In China, KSB is a leading supplier of pumping equip-ment and valves for new power stations. The joint venture KSB Shanghai with its own production of energy engineering equipment plays a major part in this success.
Two thirds of energy in China is produced from coal. In order to avoid damage to the environment from the emission of sulphur dioxide, new power stations in China are being equipped with flue gas desulphuriza-tion plants. In the first six months of this year, KSB was awarded orders for special flue gas scrubber pumps worth € 4 million. These pumps are produced at KSB's Pegnitz site in Germany, using in-house developed materials.