KEPL Tests High Speed High Pressure Pumps for Saudi Aramco
Kirloskar Ebara Pumps Limited finished testing #2500 pressure class pump designed and manufactured for Saudi Aramco, a Saudi Arabia base oil company.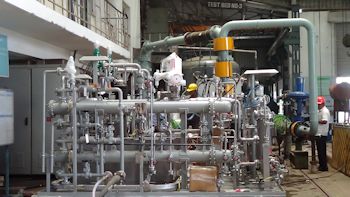 Aramco Pump during testing (Image: KEPL)
Testing of 10-stage high speed and high pressure API BB5 Pumps took place at Kirloskarvadi, Maharashtra which was witnessed by select officials from Thermax and Engineers India Limited (EIL).
KEPL pump model 150 X 100 (A) DCD is designed for high pressure fluid handling applications especially in oil refineries and petrochemical industries. API 610 BB5 pumps are multistage centreline supported heavy duty double casing diffuser designed for handling high pressure and high temperature applications. This pump was designed with motor rating of 900 KW having the capacity of 92 m³/ hr and 1603.9 meter differential head achieved at a speed of 4483 Revolutions per Minute (RPM).
Saudi Aramco - the state-owned oil company of the Kingdom of Saudi Arabia - is a fully integrated, global petroleum enterprise and a world leader in exploration, production, refining, distribution, marketing and petrochemicals manufacturing. It manages the world s largest proven conventional crude oil and condensate reserves of 260.2 billion barrels and the world s fourth-largest natural gas reserves of 288.4 trillion standard cubic feet. Saudi Aramco is also among the top producers of natural gas, maintaining the fourth-largest natural gas reserves in the world.
Commenting on the development, Thermax officials said, "We appreciate the quality of work and technical knowhow developed by KEPL. This will definitely increase our confidence in KEPL and the association of both the organisations. We are delighted with this experience and appreciate that even at high speed of 4483 RPM the noise of the pump without acoustic treatment is low, wherein generally such low noise level can be achievable only after acoustic treatment. "
KEPL develops its products through its in-house capabilities and intensive R& D programmes. Its quality management system includes design and development of rotating equipments like process pumps and steam turbines. KEPL is going to supply a lot of pumps to international market from India this year.