Keeping Material Moving
Tunnelling contractor, Gallagher's, contacted Euroflo to supply a dredging pump system. This was for a major rail-tunnelling project in east London, the Connaught Crossing.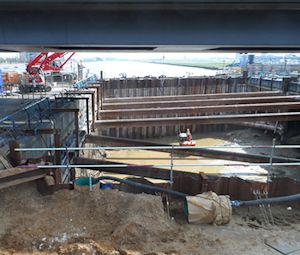 Euroflo Fluid Handling Ltd
Coffer-dams were positioned at the Royal Albert and Royal Victoria docks, some 50m apart. This left water between the two coffer-dams, which were pumped out to leave a residue of heavy silt and slurry, situated 15m below. The civil engineering works involved the accessing of tunnels through the base of the excavation in order to enlarge the existing tunnels. Initially they used standard diesel driven Hydraulic drainer pumps in an attempt to pump heavy silt and slurry from the bottom of the excavation; however these pumps were completely unsuitable for a dredging pump application and continuously blocked causing lengthy delays.
Euroflo proposed a temporary dredging pump system that would cope with the heavy slurry and supplied the entire packaged solution; including generators, control equipment, cabling, pumps and pipework. This was to move the heavy slurry with an SG of around 1.3 and with a material to water volume of around 30%. As part of the package Euroflo installed a Dragflow Dredging pump, along with a jetting ring attachment. Water was high pressure jetted by a Grindex Drainage pump to help break up the heavy material. This was accompanied by a smaller Toyo Dredging pump that could be more easily moved around for slurry Pump transfer to the main Dragflow dredging pump from around the dock floor.
The Dragflow Dredging pump was positioned at the deepest part of the excavation so that the material would gravitate towards the dredging pump with the use of excavators and Euroflo's other smaller more mobile dredging pumps. The larger Dragflow dredging pump then discharged the material over the cofferdam 100m away.
Euroflo were then commissioned to automate the operation of the Dragflow heavy-duty slurry pump system to run as required unmanned. Once the slurry removal process was complete an 8" Grindex Maxi drainage pump was installed to manage the water levels for the remainder of the project.
The key to success in managing high specific gravity applications is to keep the material moving and critical to that is the right pump selection with low RPM motors. Euroflo recommend heavy duty hard iron pumps for dredging pumps applications