Inpro/Seal Introduces the New Inpro/Seal VB45-S Bearing Isolator
Introducing the new Inpro/Seal VB45-S Bearing Isolator. The VB45-S continues in the line of Inpro/Seal's industry leading VB series of bearing isolator designs that increase equipment reliability through permanent bearing protection.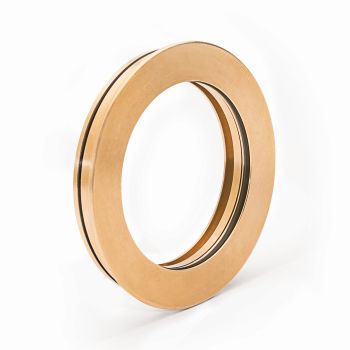 Available now, the new VB45-S Bearing Isolator, only from Inpro/Seal, is driving the standard in bearing protection (Image: Inpro/Seal)
The VB45-S Bearing Isolator provides permanent bearing protection to rotating equipment with premium protection against contamination ingress and lubrication loss. The VB45-S utilizes Inpro/Seal's patented XX Interface coupled with an enlarged contamination chamber to achieve an IP66 rating, the standard for premium ingress protection against both harmful dust particulates and powerful water jets from all directions, making it one of the best performing Bearing Isolators available. For superior protection against lubrication loss, the VB45-S utilizes an enlarged D-Groove to capture oil and return it back to the bearing housing or a grease band to block grease from traveling down the shaft and escaping from the bearing housing..
The VB45-S employs a compact design with only a 0.625 in. (15.88 mm) overall (axial) length, making it the shortest IP66 rated Bearing Isolator available. A short overall length allows for easy installation often without the need for equipment modifications.
Like all Inpro/Seal Bearing Isolators, the VB45-S can be shipped the same day orders are placed, ensuring our customers get their equipment operating as quickly as possible.