Indian Market for Air and Water Treatment Equipment Will Reach $23 Billion This Year
The Indian market for air, gas, liquid and water flow control and treatment products will reach $23 billion this year. These forecasts were determined by McIlvaine Company through aggregating the individual forecasts in a number of McIlvaine market reports.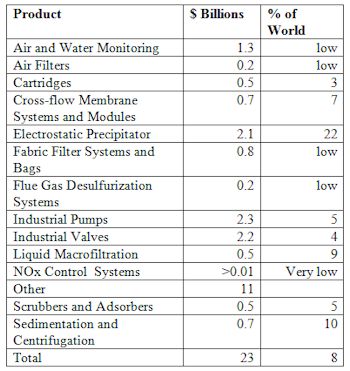 McIlvaine Company
The world flow control and treatment market will rise to $345 billion in 2014. India will represent 8 percent of the total. The power, water and pharmaceutical industries are among those which are increasing purchases at double-digit rates.
India will buy 22 percent of all the precipitator systems and parts this year. Precipitators are the primary collection device in India to capture the flyash emitted from coal-fired power plants. Fifty percent of India s emissions came from the coal-fired power sector. This revelation came as the result of satellite monitoring which revealed that much of the emission was coming from power plants which were outside the cities and beyond the range of the ambient measuring system which is in place. India is spending very little to reduce SOx.
In the water sector, there are significant expenditures to increase drinking water capacity. As a result, India will purchase 5 percent of the industrial pumps in 2014.
The market for cartridges and membrane systems is bolstered by the growth in the Indian pharmaceutical industry. International drug manufacturers are building plants in India to manufacture generics.
The liquid macrofiltration and sedimentation/centrifugation markets are relatively strong in India. One reason is the growth of the water and wastewater infrastructure. A reason that the market share is 9 percent and 10 percent respectively is that other countries are showing preference for the more efficient cross-flow membrane and cartridge products.