INDAR Helps Modernize a Hydroelectric Plant on the Tajo River
IBERDROLA has awarded INDAR, Ingeteam Group, the contract to modernize two generating units for the 132-MW Torrejón hydroelectric plant on the Tajo River. As part of the modernization, the plant will be converted to full power variable-speed operation.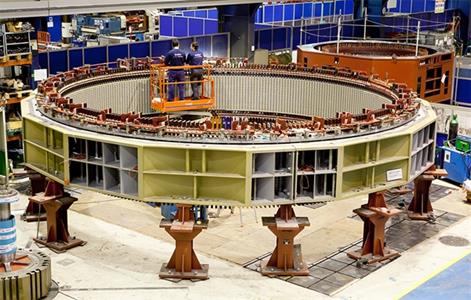 Image source: Indar Electric, S.L.
For the same project INGETEAM is delivering the corresponding 2x50MVA – 6.6kV Full Power Converters through its dedicated Frequency Converter Business Unit.
By modernizing and converting these units to Full Power Variable Speed concept, INDAR is making an important contribution to a more flexible use of hydropower plants and to increase the stability of electrical power networks in Europe due to its high level of operating flexibility.
Variable speed units offer several advantages for both pumping and generating modes such as:
possibility of active power control in pumping mode,
efficiency increase in generating mode especially under partial load,
wide range of operation,
additional energy generated/stored compared to a conventional fixed speed alternative,
network stability improvement by reactive power control; even with all the groups stopped, the full power converter can act as STATCOM, providing the necessary reactive power to the network,
network stability improvement by instantaneous active power injection in the grid (flywheel effect).
The partnership between INDAR and IBERDROLA dates back several decades.