High Temperature Series Type THK-HT from Schmalenberger
The THK series is a special design for easy delivery of hot liquids with an uncooled mechanical seal. It is used primarily for circulation of hot liquids in closed pipes and tank systems.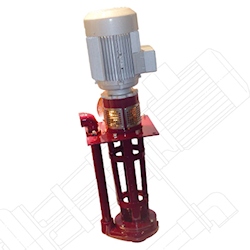 High temperature series Type THK-HT (Image: Schmalenberger)
Applications with high temperatures in the field of energy production, heat transfer and the process technic set high standards for the construction of the required pumps. The THK series are designed specifically for pumping of these hot liquids. They are suitable for installation in tanks and due to the special shaft seals will easily handle liquids of up to 230°C. A heat dissipator protects the drive motor from excessive thermal loads. With this specification THK-HT series are ready for continuous operation.
One application is for example the paint stripping of metallic components. So far block pumps were used here, which failed due to the high temperatures caused by damage to mechanical seals and motors. A small design change now allows the use of an immersible pump. The advantages of this design are very diverse.