Hick Hargreaves Products Integrated into Edwards Portfolio
Following its acquisition of the well-known Bolton, UK based engineering company Hick Hargreaves & Co Ltd in 2001, leading vacuum technology business Edwards has integrated the Hick Hargreaves range of steam ejector systems, water injection deaerators and high pressure feed heaters into its product portfolio.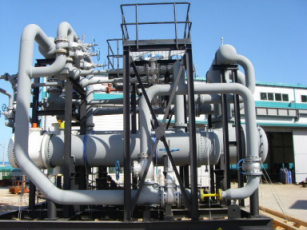 Edwards
The well proven products, which are widely used in the petrochemical, oil production and power generation industries worldwide, are now available through Edwards' Bolton, UK office. All aspects of sales, engineering, contract management and procurement activities relating to these products are undertaken by a dedicated process vacuum team, which maintains a large core of Hick Hargreaves staff and is independently ISO 9000 accredited in its own right.
Ejector systems
Hick Hargreaves has been instrumental in the development of steam ejector systems since their introduction in the early 20th century. Today's complex and highly sophisticated systems are designed and validated using data accumulated from the Hick Hargreaves steam test bed and from extensive site tests on operational units.
Steam ejector systems are used in a wide range of industrial applications, including refinery vacuum systems, vacuum distillation units, flash evaporation for seawater desalination, turbine condenser air extraction, edible oil processing, polymerisation, crystallisation and evaporative cooling. Each Hick Hargreaves ejector system is individually designed to suit the customer's specific requirements.
Proprietary heat transfer software has also been developed through research programmes with leading UK universities and operating results from commissioning work and from plant operators. This is used to model the condensation processes within the condensers, which may include complex hydrocarbon and water vapour mixtures in association with non-condensable gases. As a result, the Hick Hargreaves ejector systems can be designed to maximize condenser efficiency and hence ensure size and operating costs are kept to a minimum.
Water injection deaerators
Edwards also provides the complete range of Hick Hargreaves deaeration equipment, including seawater deaeration packages for use in water injection systems. Designs include conventional packed column vacuum deaerators and the unique spray packed vacuum deaerator, which uses patented spray distributor technology in conjunction with high mass transfer efficiency packed beds to reduce column height and weight and increase efficiency on floating installations such as FPSOs (floating production, storage and offloading vessels) and semi-submersibles.
Hick Hargreaves vacuum deaeration packages have been widely used upstream of sulphate removal packages, an application which requires a deaerator design capable of operating successfully without any requirement for antifoam dosing.
Proven designs of inert gas stripping, steam stripping and trace gas assisted deaerators are also available and can be used in applications where a Hick Hargreaves vacuum deaerator may not be the optimum choice.
There are over 160 Hick Hargreaves water injection deaerator units in operation throughout the world, with many units having been in continuous service for more than twenty five years. The company's reference list includes most leading oil companies.
Feedwater heaters
Hick Hargreaves high pressure feedwater heaters have been used in central power generating stations around the world for over seventy years. They use back face welded tube to tubesheet joints, which enable each critical joint to be fully radiographed during manufacture of the heater to ensure longevity once installed. The flows within the heater and the condensate collection are carefully arranged to maximize the efficiencies of the desuperheating, condensing and drains cooling sections
"Hick Hargreaves products have proved themselves in applications worldwide over almost 100 years, and we are delighted that these have been included in the Edwards portfolio," said Peter Raynerd, Business Manager – Process Vacuum at Edwards. "We encourage engineering contractors to contact us to discuss their specific requirements, and our experienced team will be happy to provide a design tailored to their needs."