HERMETIC Presents Enlarged Standard Series of Canned Motor Pumps
With the new series CN...B, CNF...B und CNK...B, HERMETIC presents enlarged standard series in modular construction principle up to 126 kW. The new B-Series replaces and extends after five years the successful A-Series.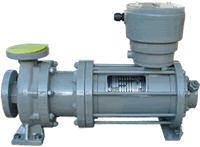 Hermetic B Series of canned motor pumps (photo: Hermetic)
The reason for the introduction of the new series is the technical advancement and the extension of the spectrum on basis of the ISO hydraulics up to drive powers of 126 KW.
Aligned at the individual needs of the customer the high-quality technology of the standardized, construction units on stock can be combined in shortest time to a multiplicity of variants. An increase in value results to the customer not only in low life cycle costs of the pump, but also with the best available technology by customizing the product for its application and needs in the combination of high-quality materials and intelligently combined standard components and variant carriers.
Main Advantages
Standard pumps

providing a well proved and high-grade technology
suitable for varied applications
at favourable prices

Short delivery times
Capacities up to 126 kW
Highly wear resistant and independent temperature slide bearings
Conclusive and variable modular system thanks to standardised individual components
Automatic and hydrodynamic axial thrust balance
Low life-cycle costs