Hayward Tyler Receives Further Orders From China
Hayward Tyler Group Ltd – a leading manufacturer, supplier and service repairer of pumps and motors – has received further orders for 16 Glandless Wet Stator Boiler Circulation Pumps (BCP) from the Shanghai Boiler Works Ltd (SBWL).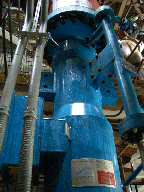 Hayward Tyler Group Ltd
This raises the number of pumps ordered from Hayward Tyler by SBWL to 28 in the last six months, strengthening their position as the leading supplier of BCP's in China and worldwide.
These pumps are intended for both domestic & overseas projects and include 2 x 1000MW Supercritical Boilers under manufacture for Cao Jing Power Station and 2 x 660MW Supercritical Boilers being manufactured for Wang Ting & Yulong Power Stations.
John Ling, General Manager of Hayward Tyler, China, commented:
"We are pleased to further cement our strong relationship between SBWL and Hayward Tyler with this large order. This comes at an important time for SBWL as it grows its market share not only in China but in the broader South East Asia region. We look forward to playing an integral part in this push as demand for cleaner energy grows in China and the surrounding region."
As part of SBWL's expansion three of the sub-critical boilers will be exported to India & Indonesia: two for the thermal power plant in Hisar, India; the other for the Suralaya power station in Indonesia.
A major factor for the continuation of the strong relationship between SBWL and Hayward Tyler is the local aftermarket support provided by Hayward Tyler's service facility in Kunshan, near Shanghai.
About Hayward Tyler
Group manufactures a comprehensive range of Fluid Filled Electric Motors and Pumps, custom designed to meet the most demanding of applications and environments. Focused on the power generation (both conventional and nuclear) and oil & gas (sub-sea) markets, the company is a market leader in its chosen niches.
In addition to the head office in Luton, England, Hayward Tyler has manufacturing and service facilities located in China, India and USA, providing cover 24x7 for maintenance, overhaul and repair services.
Hayward Tyler is a wholly owned subsidiary of the acquisitive niche engineering group, Southbank UK Plc.