GWE's Waste Water Combinations Profit Meat Producers
Some of the world's most environmentally efficient and profitable green energy technologies are being specifically tailored to the needs of the beef, poultry, pork, rendering and stockfeed industries.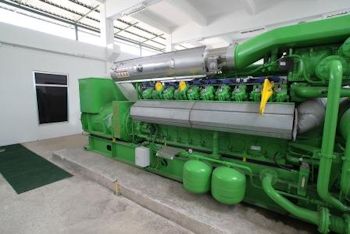 Global Water Engineering
The high-temperature thermophilic anaerobic digestion technologies, typically operating at 55 deg C, are part of a proven combination of processes that digest waste water's organic content to produce green energy while achieving outstanding waste water effluent discharge qualities.
Included in the rapid digestion thermophilic processes is the GWE Raptor system, which has just won one of the world's major chemical engineering awards for innovation in renewable energy, the IChemE 2014 Energy Award.
The Raptor system, from wastewater treatment and green energy authority Global Water Engineering (GWE), combines thermophilic high-rate anaerobic processes with complementary technologies including dissolved air flotation (DAF), screening and aerobic treatments.
This highly efficient combination of processes rapidly transforms food processing sludge waste and waste water from an environmental problem into profitable green energy (methane) to replace fossil fuels. Thermophilic digestion also destroys pathogens quickly, unlike lower temperature mesophilic digestion, so effluent can be used as a soil conditioner or fertilizer.
Thermophilic anaerobic/anaerobic systems have been proven internationally on slaughterhouse wastes, including digestion of wastes such as manure, stomach contents, blood and excess biosludge, which are transformed into biogas (methane), fertilizer and environmentally outstanding waste water effluent.
At one plant in Europe handling 6000 pigs and 2000 sows a week, the technology paid for itself within one year from biogas savings alone.
With 20-50 tons a day of waste submitted to digestion, the GWE plant achieved the equivalent of 6300Nm3 of biogas a day, which was converted to boiler process water and 625kW of electricity (or 300 to 750kwh per ton of waste). Effluent quality was increased substantially, with a chemical oxygen demand (COD) concentration of 200mg/l achieved as specified, at which level the treated waste water was suitable for discharge.
Another plant successfully deploying anaerobic technologies for green energy and high quality waste water treatment is the Cohral (Covered High Rate Anaerobic Lagoon) being installed by CST Wastewater Solutions at Oakey Beef Exports on Queensland's Darling Downs, which is owned by NH Foods Australia Pty Ltd, (formerly Nippon Meat Packers). CST Wastewater Solutions represents GWE technology in Australasia.
To be commissioned this year, the plant will extract green energy biogas (methane) from its waste water streams to replace millions of dollars' worth of natural gas currently consumed at the abattoir.
The Cohral plant is expected to repay its cost of construction inside five years through gas purchase savings amounting to many millions of dollars – then continue to deliver benefits and profitability virtually in perpetuity, says Oakey Beef Exports Pty Ltd General Manager Mr Pat Gleeson.
"The Asia-Pacific one of the many regions in the world that is only just beginning to realise the potential of green energy from waste water," says CST Wastewater Solutions managing Director Mr Michael Bambridge. "Instead of waste water being an environmental problem and as expense – a huge consumer of energy through mixers and aerators in smelly settling ponds - it becomes an asset. Instead of companies having to figure out some expensive way to dispose of it, waste water becomes a profit item.
"Biogas from waste water is an outstanding source of base load power. As part of a renewable energy mix – complementing wind and solar generation, for example – electricity generated with biogas is highly reliable and consistent. As the major component of natural gas, methane is an environmentally attractive alternative to fossil fuels."
GWE anaerobic technologies have been successfully deployed on diverse organic and agribusiness waste streams produced by industries including food and beverage processing, livestock, crops and primary product processing.
Their success was recognised by GWE's successful entry in the 2014 IChemE award for the best project or process to demonstrate innovation in renewable energy, alternative energy sources, efficient energy use or the development of energy production methods that reduce energy and water intensity.
"This was a landmark award because it was independent confirmation by a world respected body of the scientific and practical value of the process," says Mr Bambridge. "By judging the process by results achieved in service, it gave the food and beverage industry a true yardstick for comparisons applicable in Australasia and globally."