Griswold 811 Series Centrifugal Pumps For Storage Terminal Applications
Griswold Pump Company announces that its 811 Series ANSI Centrifugal Pumps have been specifically engineered for a broad range of applications within the storage terminal industry.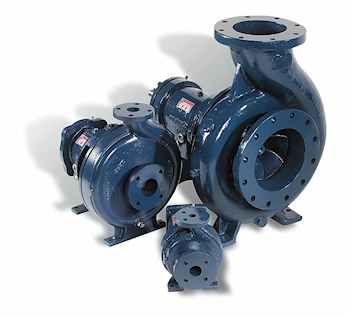 811 Series ANSI Centrifugal Pumps (Image: Griswold)
Griswold 811 Series ANSI pumps – which were among the first to meet centrifugal pump manufacturing criteria established by the American National Standards Institute (ANSI) in 1977 – are ideal for storage terminal applications because they offer the durability, efficiency and flexibility required to complete a number of crucial storage terminal operations.
Griswold's 811 Series are ideal for a variety of transfer applications found within storage terminal operations, including petroleum, biofuels, chemicals and vegetable oils, to name a few. The 811 Series pumps feature open impellers with two times the wear area of a closed design, which optimizes the performance of the pump's open impeller and allows renewable performance. This open-impeller design feature also minimizes concentrated wear by balancing the hydraulic axial thrust load and reducing the stuffing-box pressure. This not only facilitates corrosive, abrasive, solid and stringy-fiber handling, but also simplifies maintenance, extends pump life and reduces repair costs.
These pumps also meet a diverse array of storage terminal applications because their casings can be constructed of a wide choice of materials, including ductile iron, 316 stainless steel, CD4MCu and alloy 20. They are constructed through investment and no-bake casting processes to ensure smooth, precise, superior finished that guarantee consistent, reliable performance. Griswold also employs metallurgists to strictly supervise all heat-treating operations so that maximum corrosion-resistance for all alloys is ensured.
In addition, 811 Series pumps feature self-tightening impellers that reduce leaks and failures; the ability to externally adjust the clearance so that peak efficiency is ensured even after wear-area loss; back pump-out vanes that reduce pressure on the shaft seal and reduce thrust loads on the bearings; and investment-cast impellers that are ultra-smooth to guarantee hydraulic and mechanical balance, and maximized seal and bearing life.