Global Demand for Water Infrastructure Equipment to Exceed $101 Billion in 2016
World demand for water infrastructure equipment is projected to increase 6.5 percent per year to $101.7 billion in 2016.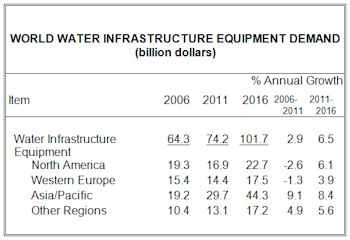 World Water Infrastructure Equipment Demand
Advances will result from two key factors: in developing nations, access to water supply and sanitation will be increased; in developed nations, aging water infrastructure will need repair and upgrade. For example, many current water systems across the world have pipelines over 50 years old, leading to increased main breaks. These trends will benefit water infrastructure demand for all major products such as pipe, pumps, valves, and meters. These and other trends are presented in World Water Infrastructure Equipment, a new study from The Freedonia Group, Inc., a Cleveland-based industry market research firm.
In less developed nations, gains in water infrastructure equipment demand will be prompted by expansion of water supply services, access to which in many countries remains considerably low. In the least developed parts of Asia and Africa, market gains will continue, but even a robust level of growth will leave several hundred million people without access to safe water or even minimal sanitation facilities. Water infrastructure construction in developing nations has been hampered by a lack of funding. However, government and nongovernmental organizations are increasing their focus on the issue of water management, which will provide opportunities for equipment suppliers.
In most developed markets -- particularly the US -- gains will result from efforts to upgrade and repair aging sewer and water pipe networks. In addition, rising regulatory standards will also boost water infrastructure spending. However, funding will continue to be the key issue facing the industry. Government entities, faced with
budgetary limitations, have historically neglected water infrastructure in favor of higher profile projects. Water users in many nations are faced with rising fees, which will likely continue to escalate.
Among products, plastic pipe will post strong gains through 2016, continuing to steadily take market share from other pipe materials. Rising demand for plastic pipe will be driven by its low cost compared to metal or concrete. Meters -- particularly smart meters -- will post solid gains due to suppliers' attempts to reduce operational costs and leakage. Replacement demand for pumps and valves will benefit from the wear experienced during the continual operation of water systems.