German Water Partnership Presents German Solutions for Development in Washington
Under the headline "Water and Innovation, Solutions for Development – The German Experience" a delegation from German Water Partnership deepened the expert dialogue that had started in an earlier visit in 2011.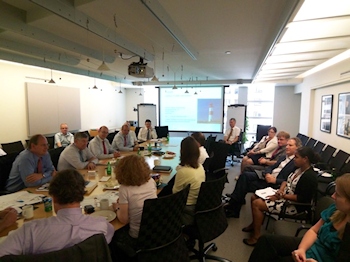 The presentation of the German water expertise was very well received and discussed with interest (Image: GWP)
Dieter Ernst, Board Member of German Water Partnership and leader of the delegation, opened the expert dialogue by mentioning that the German water solutions presented are part of the paradigm shift the water sector is in need for. GWP and World Bank agreed that the solutions fit well into the agenda of international development agencies. This year more than 40 members of international institutions followed GWP-invitations between the 11th and 13th of September.
The visit focused on an expert dialogue with the "World Bank Water Anchor" presenting German water competencies for challenges like energy efficiency or semi- and decentral solutions in the water sector. Holistic approaches like sustainable water management or participative planning processes also played an important role in the presentation. Moreover different members of GWP gave an insight into innovative and practical solutions made in Germany: from pumps, water quality measurement to leak detection.
Moreover to the World Bank visit, German Water Partnership also established or renewed the exchange with the International Finance Cooperation, the Inter-American Development Bank, Millennium Challenge Corporation and the Multilateral Investment Guarantee Agency. The next expert dialogue at the World Bank will take place in 2013.