Geo-Exchange System for Sainsburys Crayford Store
Leading supermarket chain Sainsbury's has taken a major step to reduce its carbon impact with renewable energy based on a geo-exchange system supplied by Greenfield Energy in partnership with Armstrong Integrated.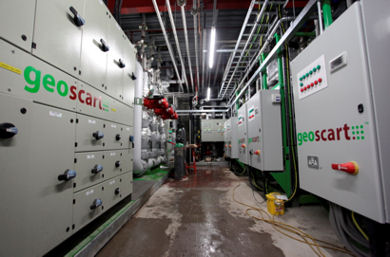 Armstrong
Following a successful trial installation at Sainsbury's store in Crayford, Greater London, the retailer now plans to roll-out the installation of similar technology at other key stores as part of its carbon reduction strategy.
At the heart of the renewable solution is the GeoscartTM ground source heat exchange system designed and supplied by Greenfield Energy, a UK-based company specialising in the delivery of sustainable renewable energy. The Geoscart technology involves a subsurface array of closed-loop borehole heat exchangers specifically designed to match the building services design. Drilled at angular displacement (diagonally and/or horizontally) they provide maximum geothermal exchange efficiency whilst occupying minimal surface area.
Greenfield Energy has partnered with Armstrong Integrated (experts in low and zero carbon HVAC systems) for the manufacture and delivery of the key Geoscart surface system. Armstrong's offsite fabrication ensured the top-class build quality and reliability of the installed systems. It also guaranteed effective integration of the on-site generation elements with the other energy efficient components such as intelligent variable speed pumps with efficient pumping strategies and advanced controls technology, according to the demanding Geoscart system specifications. This degree of intelligent integration ensures that carbon reductions gained through renewables are fully optimised, and provides Sainsbury's with a sophisticated surface interface from which it can monitor and manage energy distribution across the system.
The Geoscart approach has a number of benefits for large property owners and tenants. Harnessing renewable energy from the Earth's core, and capable of storing and retrieving thermal energy from the building, it has significant advantages for improving sustainability of the site. Intelligent integration throughout the system provides outstanding efficiency, meaning that it easily attains the stringent targets set by the Building Regulations. These operating efficiencies translate into lower energy bills and reduced reliance on external energy costs in the event of future price rises. By utilising natural geothermal energy in lieu of carbon-based sources, Geoscart greatly reduces carbon dioxide emissions. Lastly, as it is a sealed, closed loop system, there is no discharge or waste to either the ground or the atmosphere, and environmental impact is therefore negligible.
Greg Davis, director at Greenfield Energy commented, "This is a pioneering move by Sainsbury's, and the installation at Crayford has exceeded all expectations. Our Geoscart system is ideally suited for supermarkets, and it's very gratifying to finally see it installed and proven, so smoothly."
Wayne Rose, marketing director of Armstrong said, "The technical challenges of integrating renewable systems are frequently underestimated, with the result that installations can fail to optimise the full potential. Greenfield Energy's enthusiasm for working in partnership, however, has enabled our companies to collaborate to ensure that the carbon reductions gained through the use of renewable energy sources are combined with further savings made possible through intelligent integration. The result is a highly-effective solution which will deliver tangible improvements in carbon impact."