Free Guide to Ecodesign Regulations for Electric Motors
Following updates to the Ecodesign Directive in July this year, which revised the regulations governing the energy efficiency requirements of new electric motors, the Association for Electrical and Mechanical Trades (AEMT) has published an easy-to-use reference explaining the implications for motor users.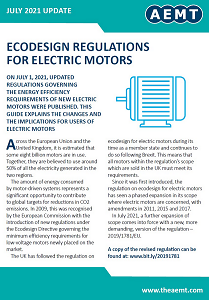 Image source: Association for Electrical and Mechanical Trades (AEMT)
The guide, which can be freely downloaded from the AEMT's website, outlines the changes which came into force under the revised Ecodesign Regulations, particularly around the energy efficiency standard newly supplied motors must meet based on their specification. In addition, the document outlines several exemptions within the regulations and highlights further changes that are due to come into force in July 2023.
Alongside the technical information, the guide also explains what key aspects of the regulation mean to users of motors that fall within its scope. Plus, there are details of a study carried out by the AEMT and its US counterpart, the Electrical Apparatus Service Association (EASA), into the effect of repairs and rewinds on the efficiency of premium efficiency motors.