Flowserve® Supplies Six High Capacity Pumps to Boost Water Level of Germany's Ems River
Flowserve Pump Division's Hengelo, Netherlands office recently supplied six high capacity, concrete volute pumps to the German State of Lower Saxony, Department of Water and Coastal Protection for a new dam that has been built in Northern Germany. The pumps, valued at US$ 3 million, are part of a US$ 210 million semi-open flood control dam that is used to boost the water level of the Ems River.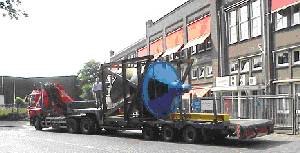 Pump leaving Flowserve's Hengelo facility
These Flowserve BSV concrete volute pumps (types BSV 225 and BSV 260) have impellers ranging from 2.3 m (89 in) to 2.6 m (102 in) and are capable of discharging 100 m3/s (1.6 million USG/min) at heads up to 4.8 m (16 ft). The pumps have been installed in six pillars along the 305 m (1000 ft) wide dam, connected by 55 m (180 ft) control gates. The pumps will be engaged to increase water depth for large seagoing vessels built 32 km (20 miles) upstream at the Meyer Shipyard. The dam will also function to safeguard the sub-sea level inlands against flooding due to storm surges.
To complete this project, Flowserve engineers had to perform computational fluid dynamics (CFD) calculations and 1:5 scale model testing. The tough site conditions and the limited installation space also presented demanding circumstances for project engineers. The successful completion of this project demonstrates the willingness and ability of Flowserve to work closely with customers to develop sound engineered solutions for their challenging problems.
About Flowserve Corporation
Flowserve Corporation (NYSE:FLS) is one of the world's leading providers of industrial flow management services. Operating in 34 countries, with 2002 sales of $2.4 billion on a pro forma basis and more than 14,000 employees, the Company produces engineered pumps, precision mechanical seals, automated and manual valves, control valves and valve actuators, and provides a range of related flow management services.