Feluwa Receives Major Contract from the Golf Region
Mine operators have decided to cooperate with the pump specialist from the Eifel region.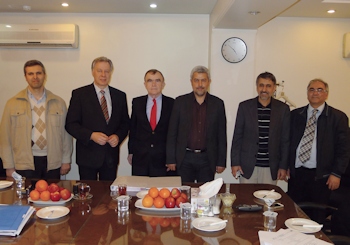 Heinz M. Nägel (third from the left) with managing director Rudolf Gänsl (second form the left) and the contracting party. (Source: Feluwa)
An important main application for Feluwa products are international mine project e.g. in South America, Australia and Asia. In inaccessible areas, where traditional transportation via trucks and railroads fails, hydrotransport of ore slurry by means of pipelines represents the most cost-efficient and environmentally friendly alternative.
The mining companies in this region, which is rich in mineral resources, are promising partners for a strategic growth of the pump manufacturer. With the new major contract the individually designed Feluwa pumps are used for a water recovery project of an iron ore mine. The transport of the abrasive and aggressive conveyed medium which contains solids and chloride places high demands on the pumps. The hermetically sealed Feluwa pump technology, especially designed for this project, meets these requirements. Together with the plant operator the planning office has decided to use the worldwide unique, patented Multisafe with the redundant double hose-diaphragm system.
The hose-diaphragms are permanently resistant to aggressive fluids. Since the conveyed medium is not in contact with piston and gearbox, the use of expensive special materials for the pump heads is not necessary. The costs for maintenance and wear parts will be minimized and the availability of the pump will be considerably increased. The pumps of this series are suitable for operating pressures of up to 400 bar and flow rates of more than 500 m³/h.
Altogether Feluwa will supply five big Multisafe pumps in triplex design by the end of this year. Feluwa engineers will also be responsible for the on-site commissioning of all pumps.