Extended Range of Centrifugal Pumps According to DIN 24255
Saer Elettropompe has announced the extension of the centrifugal pumps series IR. The pumps are available in different materials in order to meet a wide range of applications.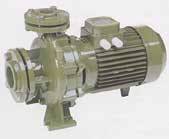 Single Stage Close Coupled End-Suction Pump IR (source SAER Elettropompe)
The single-stage, close-coupled pumps have a normalized body according to DIN 24255-UNI 7467. They are driven by 2 resp. 4 pole motors with a nominal power from 0,75 to 37 kW. The motor group and the rotating part can be taken off without removing the pump body from the plant pipes. The impeller is of closed type, keyed on the shaft.
The electric pumps can be used in recycling plants, heating, air conditioning, heat recovery, plants, tanks and various services in the industrial field. The bronze version is designed for sea water applications.