EWTIS Offers Comprehensive 24-Hour Operational and Maintenance Support
Eimco Water Technologies, has established a new Integrated Support Division to extend its services to Australasian business.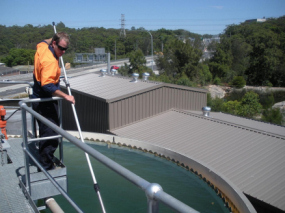 EWTIS
Eimco Water Technologies Integrated Support (EWTIS) complements the existing AJM/EWT operation that is a foundation stone of EWT's strong push into the industrial and municipal wastewater and water re-use sectors within the Asia-Pacific.
EWTIS Group Business Manager Steve Elsom says the establishment of EWTIS means comprehensive servicing of wastewater treatment plants is now available to ensure that owners and operators of these plants continuously receive expert support 24/7. The new division combines strong and proven local experience with the global resources of the EWT organisation, which is part of the GLV group and employs nearly 1700 people in 30 countries.
"EWTIS provides full operation, service, and supply of chemicals for wastewater treatment plants all over Australia and New Zealand, ensuring that they can operate efficiently and cost effectively," said Mr Elsom, "We assume full responsibility for the smooth functioning of treatment plants, allowing client personnel to concentrate on their core duties.
"As well as operating the plants, we offer preventive maintenance programs that minimise downtime and reduce operating costs.
"Our dedicated staff bring unparalleled knowledge and experience to the task of keeping wastewater treatment plants running and in compliance with the latest legislation," he said.
Customers to use EWTIS's services may include industrial plants, mines, manufacturers, steel works, aluminium refineries, oil refineries, pulp and paper companies, electricity generators, primary processors, breweries, wineries – in fact, just about every large or medium-size industrial enterprise in Australia that treats its wastewater before discharge.
"We've always wanted our wastewater treatment clients to know that they're not on their own once their plants are operational. Customer back-up has been an important element in maintaining the excellent reputation of EWT worldwide. A separate company will enhance our ability to offer a first class support service," Mr Elsom said.
Solutions that EWTIS delivers include:
Full operation of wastewater plants
Preventive maintenance and servicing of plants, using the latest telemetric technology to remotely monitor a treatment plant's performance and adjust the process accordingly, ensuring full 24/7 operational capacity
Supply of chemicals to service the three main chemical mechanisms involved in wastewater treatment, namely pH adjustment, coagulation and flocculation
Compliance sampling
Spare parts supply
Technical on-site assistance including 24-hour phone support and an emergency breakdown service
EWTIS has available a new range of chemical products including OptiReg and HyBind coagulants, EnviroFloc flocculants and UniReg one shot products. EWTIS can also supply its parent company's SureBlend range of both powder and emulsion polymer dosing systems to facilitate ease of dosing of the EnviroFloc range.
EWTIS builds on the servicing expertise of AJM Environmental Services before that company's merger with Eimco Water Technologies to form AJM/EWT.
Experienced personnel from that company formed the core of EWTIS, expanded with new account managers and the back-up of EWT's plant and equipment division.
"We are already growing rapidly, thanks to the unstinting support of the AJM/EWT team, and this year will be very exciting for us and our customers," Mr Elsom said.
AJM/EWT's large team of environmental, chemical, microbiological, mechanical and electrical engineers comprises the same professionals who design, build and commission industrial wastewater plants on a daily basis.
AJM/EWT is one of Australia and New Zealand's largest specialist industrial water and wastewater treatment plant designers and constructors.