Espa Launches New Corporate Web Portal
The pumping equipment manufacturer Espa launches the new corporate web portal Espa.com. It is a step forward to the 2.0 web, which improves the usability, increases the interaction and facilitates the user Internet navigation.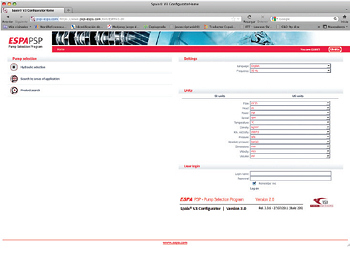 Espa PSP Pump Selection Program (Image: Espa)
With half a century of experience, the Espa brand has followed the strategy based in constant innovation and improvement, direct service, quality of its products and proximity to the client, in order to face the new business challenges that international growth entails. The Espa group has always been characterized by remaining at the forefront of new technologies. The first Espa website was launched in 1995 and it was a pioneer in the beginning of the digital age. From that moment on, this website has been renewed periodically and now it turns on a 2.0 web.
The new Espa corporate website, developed together with the Espa Company and the digital communication enterprise Interactiu, wants to be a meeting point amongst the community of Espa users and to gather the distributive units of the group located in the main international markets. The new web portal improves the users Internet navigation (installers, prescribers, distributors, etc.) and makes the Espa product search easier thanks to the creation of four new ways of searching: range, applications, alphabetic order and a personalized search.
In Espa.com users can find all the information about the products and services the company offers; access to the Service Centre, after-sales service; latest news in any field of the group, and, as a new 2.0 application, a direct communication area among the Espa user community as the meeting point for workers, clients, suppliers and opinion leaders in the sector.
PSP Espa online selector
As an added novelty, Espa has incorporated the Espa PSP online product selector, a management and selection application of Espa products, accessible from the new corporative web portal and also from the page www.psp-espa.com, with only a click it allows to manage all the Espa products and projects, 24 hours a day, 365 days a year.
This application offers the user a rapid and efficient way to select those Espa products that best adapt his installation needs; it also allows downloading a technical file of the selected products together with the working curve and having access to the comparative energetic costs.