EnviroGear Seal-less Internal Gear Pump Gains Momentum in Sweetener Transfer Applications
Maag Industrial Pumps is pleased to announce that its EnviroGear Seal-less Internal Gear Pumps are ideal for sweetener transfer applications within the ice cream industry.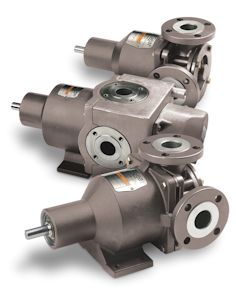 EnviroGear® (Image: Maag Industrial Pumps)
"This news follows EnviroGear's initial success handling viscous media such as corn syrup, as well as less-viscous media such as fructose, sucrose and sorbitol. Success is spreading to other major ice cream production facilities," says Dale Evers, Director of Business Development, PSG. "The results have been exceptional where shaft leakage and related maintenance costs have been significantly reduced."
EnviroGear pumps are ideal for the sweetener transfer process involved in ice cream manufacturing due to the revolutionary seal-less design with patented between-the-bearing support system. This unique design effectively eliminates leaks and mechanical wear, making it one of the safest and most reliable gear pumps in the industry. Its design also uses magnets mounted directly to the rotor, eliminating the adapter plate, which, in turn, allows for a single-fluid chamber. This chamber design results in a shorter, simpler flow path and allows the pump to easily handle fluids with high viscosities up to 50,000 cSt, increasing bearing life and cleanability.
With a wide range of material options and configurations available to meet your sweetener transfer needs, EnviroGear Seal-less Internal Gear pumps offer differential pressures from 1.4 to 13.8 bar (20 to 200 psi) for ductile-iron and carbon-steel models, and 1.4 to 10.3 bar (20 to 150 psi) for stainless-steel units. All pumps are available for temperatures from -40ºC (-40ºF) to 260°C (500°F).