Energy-Efficient Pump Solutions for Chemical-Transfer Applications
Wilden announced that its Advanced Series Metal and Plastic Air-Operated Double-Diaphragm Pumps provide true cost savings for manufacturers and operators in the chemical-transfer industry when compared to other Air-Operated Double-Diaphragm pumping technology.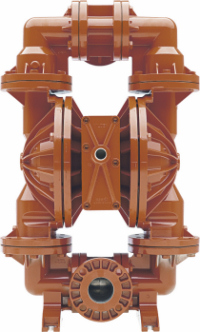 Advanced Series PX1500 pump (Wilden)
Advanced Metal and Plastic pumps are available with a specialized air-distribution system including the revolutionary Pro-Flo X Air Distribution System, which features a state-of-the-art Efficiency Management System (EMS) that optimizes the Pro-Flo X ADS for specific operation parameters, regardless of the application demands or pump size. The results are true cost savings brought on by higher performance, lower operational costs and reduced energy costs.
Advanced Series Metal pumps are offered in die-cast aluminum, stainless steel and alloy C materials of construction, with a variety of elastomer options, including PTFE, that enable them to meet abrasion, temperature and chemical-compatibility concerns. Their bolted configuration ensures product containment while their redesigned liquid path reduces internal friction, which maximizes output and efficiency. Advanced Metal pumps are available in five sizes, from 6 mm to 76 mm (1/4" to 3"). The pumps feature flow rates to 1,021 lpm (270 gpm) and can handle solids to 76 mm (3").
Advanced Series Plastic pumps are offered in polypropylene, PVDF and PFA with elastomers of Buna-N, Neoprene, EPDM, Viton, Wil-Flex, Saniflex, polyurethane and PTFE, again with chemical-compatibility in mind. They have the same bolted configuration as the Metal pumps, as well as the redesigned liquid path. The pumps are available in 6 mm to 76 mm (1/4" to 3") sizes with the ability to handle solids up to 12.7 mm (1/2"). Maximum flow rates are 784 lpm (207 gpm).