Endress+Hauser Is Paving the Way for the Future
The Endress+Hauser Group increased its net sales by more than 7 percent to over 1.8 billion euros last year. While foreign exchange rates slowed growth, acquisitions, particularly in the field of analytics, provided a boost. Besides venturing into new markets, the change at the head of the Group was the dominant feature of 2013.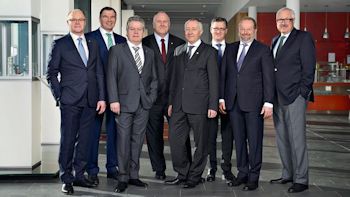 Joining forces for success: The Executive Board members of the Endress+Hauser Group. (Image: Endress+Hauser)
The Group achieved a record operating profit of 277 million euros, as well as a best ever net income of 187 million euros. The Group invested around 130 million euros in its world-wide production and sales network. At the end of 2013 the company employed 11,919 people. Of 1,853 new positions in the company worldwide, about 1,300 resulted from the purchases; a further 550 posts have been organically created in the Group.
A presence in laboratory analysis
The Group's financial key indicators are strongly influenced by acquisitions. In addition to the takeover of the business and employees of a former representative in Indonesia and the purchase of the US optical analytics company Kaiser Optical Systems, a share in Analytik Jena is a major factor. The share enables Endress+Hauser to develop a foothold in the laboratory business. The share had an effect on the equity capital ratio, which was reduced by more than 2 points to 67.8 percent.
Smooth change at the top
For the family-owned business, the handing on of the baton at the end of the year was of particular significance. Klaus Endress, son of the company founder, who has managed the Endress+Hauser Group since 1995, joined the Supervisory Board, replacing Klaus Riemenschneider as President. The Group's new CEO is Matthias Altendorf, with 25 years' experience at Endress+Hauser and formerly Managing Director of the competence center for level and pressure measurement engineering in Maulburg, Germany.
Cautious start to the new year
For 2014 Endress+Hauser has set the target of over 2.1 billion euros of net sales – a plus of over 15 percent due to the acquisitions. Beyond the new business areas, an organic growth of around 9 percent is planned. The company intends to create 500 new jobs and increase the equity capital ratio to significantly over 70 percent again. So far the start to the current year has been modest.