Dynalco Introduces New DynaProbe Predictive Maintenance Engine Inspection Tool
Dynalco Controls Inc, a CRANE CO. company, and Beta Machinery Analysis, jointly announce the introduction of the Dynalco DynaProbe, an engine inspection tool that greatly reduces maintenance costs, minimize overhaul downtimes, and decrease the chance of a catastrophic failure occurring.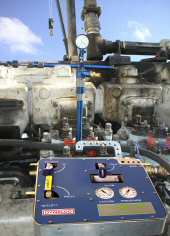 DynaProbe
DynaProbe is the least invasive and most accurate method for measuring current machine condition. The data obtained can also be trended and predictive wear rates can be determined as more inspections are preformed. This predictive maintenance tool is designed to be used by spark-ignited and diesel engine mechanics to easily and accurately measure:
• power cylinder condition & wear – liners, rings, ports, head, valves
• valve sink and train setting
• wrist pin and connecting rod clearances (wear & trend)
• ignition system condition
• cylinder leakage rates
• blow-by
"DynaProbe is a perfect addition to our family of Strategic Asset Management Solutions for engines and compressors," said Bob Webber, Director of Strategic Asset Management Solutions for Dynalco. "It complements our other industry-leading products like RECIP-TRAP, BETA-TRAP, and M-Health, allowing our clients to better optimize the performance and profitability of their machinery assets."
The DynaProbe design is patented by Beta Machinery Analysis (Beta) and was known as the B-Probe. It has been used successfully by Beta for over the past decade to reduce maintenance costs, minimize overhauls, and avoid catastrophic failures for many of North America's leading engine operators.
In the past, the unit was only available as a Beta service, but due to customer demand, the unit is now available for purchase. Under the agreement, Dynalco has exclusive branding, manufacturing, and marketing rights and Beta retains all patent and technology rights.
During the past year, both Companies have joined forces to upgrade the technology so it now applies to all common engines used in the gas processing business.
"Dynalco is an ideal partner for us," said Russ Barss, President of Beta Machinery Analysis. "We're an engineering consulting company focused on solving machinery reliability problems. They're a strong product marketing company with brand reputation, channels to market, and knowledge of the customer base. We have a long history of working well together."
Using proven B-Probe technology makes this convenient, hand-held device a must for companies wanting to significantly reduce their maintenance expenses.