Duo 125 and Duo 255: Dependable Rotary Vane Pumps
With the Duo 125 and Duo 255, Pfeiffer Vacuum has brought to market two further two-stage rotary vane pumps. The Duo 125 and Duo 255 are used when industrial or scientific vacuum applications necessitate dependable pumps for high pumping speeds of between 120 and 250 m3/h in the low and medium vacuum ranges.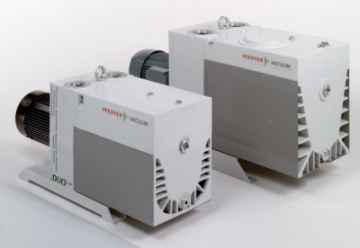 Pfeiffer Vacuum
These pumps are suitable for employment in high-vacuum pumping stations in combination with turbopumps or as backing pumps for Roots pumps. Typical low and medium vacuum industrial applications include vacuum drying, metallurgy or coating.
The Duo 125 and Duo 255 complement the DuoLine series of rotary vane pumps, which are all characterized by their compact diameters, high pumping speeds and low noise levels.
Thanks to the fact that their needle bearings are free of nonferrous metals, these pumps are extremely insensitive to dust, dirt and corrosive gases. The integrated pressure oil lubrication system improves oil circulation and cooling. The pump's improved cooling makes for long service life. An hydraulic safety valve additionally assures a very high level of operating reliability.
Extensive accessories broaden the range of potential applications while additionally increasing operating reliability.