Drives and Controls 2004
The event takes place at the smart new International Centre, Telford, UK from Tuesday 12th October until Thursday 14th October. With many predicting a significant upturn in the drives, motors, transmissions and automation markets, the event is ideally timed to maximise the impact of such a potentially improving economy.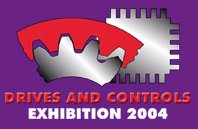 For exhibitors, it provides the ideal forum to meet new and existing customers, while for the visitor, there are new features, new technologies and a broad cross section of manufacturers and suppliers to discuss projects with face to face.
The Drives and Controls Exhibition is set to be one of the most buoyant engineering shows of 2004 with some of the biggest names from the automation industry displaying innovative products at the event. The show has returned to the radically redesigned Telford International Centre, where it enjoyed six successful years in the 1990s.
Visitors who pre-register for the Drives and Controls Exhibition get the chance to win a fantastic Media Golf membership package for use at any one of 20 golf clubs throughout the UK.
To pre-register your interest and to receive more details and your FREE ticket in plenty of time for the show, please visit the web site.