Diamond Ceramics As Pump Material
Hardly discovered by now, HNP Mikrosysteme uses diamond ceramics for the functional components of its micro annular gear pumps and exceeds previous limits of wear and material resistance in successful tests.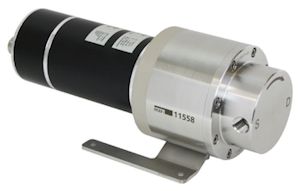 Diamond ceramics as pump material discovered (Image: HNP Mikrosysteme)
Rotors of micro pumps made of diamond ceramics prove to be extremely superior in continuous tribological tests as opposed to rotors of other hard materials. No material attack was observed in exposure tests with aggressive, oxidizing and reducing acids. The chemical resistance is enormous, the service life of the pumps multiplies.
Hermetic inert pumps equipped with diamond ceramics will allow new applications in the chemical industry, increases effectiveness and cause a more careful use of resources.
Hermetic inert pumps and further four series of micro annular gear pumps guarantee a flow rate from 1 μl/h to 1152 ml/min and enables high pressure up to 80 bar.
These are ideally used where fast and highly precise dosage is required. These pumps are characterised by low pulse delivery, minimal dead volume, long service life, small dimensions, powerful materials and ease of maintenance.