DHI Technology Selected for Major Flood Management Project in China
DHI Water & Environment (Denmark) together with Mott MacDonald Ltd (UK) and the Institute of Water Resources and Hydropower Research (China) have been awarded a major contract by the Songliao Water Resources Commission (SWRC) to develop a state-of-the-art flood management system for the Songhua River Basin.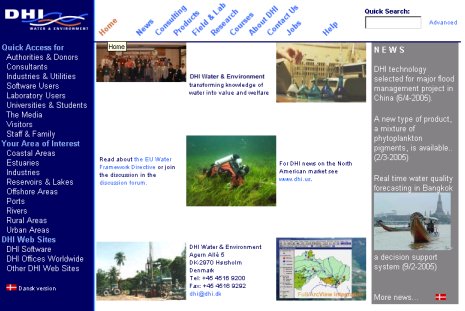 The DHI Website
The project is funded under a loan from the Asian Development Bank.
The Songhua River basin covers an area of 557,000 km2 and serves a population of 53.5 million people. The project is a technology transfer project with the ultimate aim to develop the necessary expertise and technology in the SWRC to actively and effectively manage floods.
A comprehensive Flood Management Decision Support System (FM DSS) is being developed and implemented in close partnership with the client. The FM DSS will provide easy access to all relevant flood information with extensive use of GIS. Further, it will enable hydrological and hydrodynamic modelling including real-time flood forecasting and reservoir management. The FM DSS will provide the user with a selection of decision support tools, which can assist SWRC during serious floods.
A major component of the FM DSS will be the real-time forecasting system MIKE FLOOD WATCH, which is now widely used in China. The MIKE FLOOD modelling package (including MIKE 21 and MIKE 11) is used for combined one-dimensional and two-dimensional flood modelling. And finally MIKE 11 is applied extensively in the river basin. The project includes a major domestic and international technology training program.
For more information on the project please contact Qian-Ming Lu (lqm@dhi.dk) or Jacob Høst-Madsen (jhm@dhi.dk)
About DHI
DHI Water & Environment is an independent, international consulting and research organisation approved as an authorised Technological Service Institute by the Ministry of Science, Technology and Innovation.
The consulting services are based on the development and application of know-how and advanced technologies within ecology and environmental chemistry, water resources, hydraulic structures and hydrodynamics and other areas related to water environment.
DHI offers a wide range of consultancy services, software tools, chemical/biological laboratories and physical model testing facilities.
The Institute has a staff of approximately 450, the majority of whom are professional engineers and scientists with postgraduate qualifications and several years of consultancy and R&D experience. Projects have been conducted in more than 140 countries.