Course Set for Further Growth
thinXXS GmbH, Zweibrücken, is prepared for further growth. While last year the emphasis lay on upgrading the technical infrastructure, the company recently rented some 350 square meters of additional office space on its premises in Zweibrücken.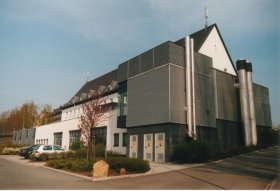 Photo: thinXXS GmbH
In this context, thinXXS will relocate the activities from Mainz to Zweibrücken by the end of June.
"This marks another important milestone in our development", says General Manager Lutz Weber. Responsible for all production matters, he is particularly satisfied with the improvements of air quality in the clean room. "We are now in a position to go ahead with our plans to set up a fully automated production line for fluid micro systems later this year."
And General Manager Hans-Joachim Hartmann adds: "As we are increasing our sales force, we needed additional space to move into. As a side effect, we also expect that the different units will interact more efficiently in future. The overall goal is, of course, to become more flexible and react even faster to customer demands than to date."
thinXXS GmbH produces and develops microfluidic and micro-optic components and systems in plastics. Located in Zweibrücken, the company employs a workforce of about 30 people. thinXXS offers several microfluidic systems, their customization or integration into OEM products, as well as comprehensive contract services in product development and production. Among the markets, which profit from our high-tech solutions, are the life sciences, medical device technology, pharma, or automation.