Cooling Water Pumps for Rotterdam Power Station
End of September 2009, KSB received an order for 2 main cooling water pumps worth several million euros for a new power station in Rotterdam.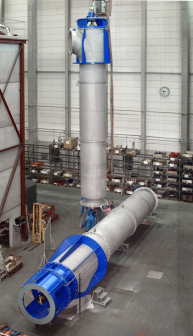 Examples of the SEZ pumps that will be supplied to a power station in Rotterdam in October 2011. (Image: KSB)
The station currently under construction is a high-efficiency coal-fired or biomass-fired 800 MW unit with a 46 percent efficiency.
The pumps to be supplied are vertical tubular casing pumps type SEZA 20-140 with open mixed flow impellers and a discharge nozzle diameter of 2,000 mm. Each pump is driven by a frequency-controlled high-voltage motor with a drive rating of just under 4,000 kW. Wetted parts, such as casings and impellers, are made of seawater-resistant duplex steel.
KSB's scope of supply further includes two ancillary cooling water pumps type Amacan S 850-550 as well as swing check valves with a diameter of 700 and 2,000 mm. Earlier, KSB had booked an order for condensate pumps for the same power station. KSB expects to deliver the pumps in October 2011.