Convenient and Safe Transfer of Small Amounts with Battery Pump
Electrical laboratory pumps in polypropylene and stainless steel are for many years part of the delivery range of Lutz Pumpen, Wertheim, which now has been completed by a battery-powered pump type.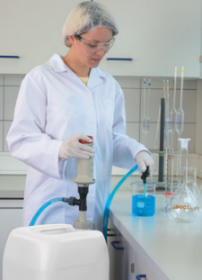 Battery Pump B1 (Photo: Lutz Pumpen)
The new pump series B1 features the proven technology of the sealless pump tube. Liquids cannot be contaminated and the pump can run dry for a short time without being damaged. The new pump is constructed for applications where small liquid amounts from small vessels with narrow openings have to be transferred.
The pump is user-friendly, the motor can be easily detached from the pump tube and can be recharged in the battery charger. The battery charger either can be used as table unit or can be mounted onto the wall which also offers a storage option for the complete pump. The quickly detachable motor allows to operate several pump tubes in different vessels with just one drive unit.
Due to the ergonomical design of the pump an easy and convenient handling is guaranteed. The motor complies with all security regulations, has a long service life and is running ultra quiet.
The battery capacity is sufficient for a daily filling demand in laboratories. With full battery power the pump reaches a max. pumping quantity of 16 l/min. Liquids with a viscosity of up to 200 mPas and a density of up to 1,3 kg/dm³ can be pumped without difficulty and moreover the pump offers an optimal complete drum drainage.
The infinitely variable speed controller allows an easy and safe filling of small liquid amounts.
The lightweight polypropylene pumps with a drive shaft from Hastelloy are convincing of a high chemical resistance. The pumps are therefore also suitable for filling acids and alkalis.
Optionally available is a curved spout as filling device. Different available drum adapters from the accessories range give the pump the necessary support in the vessel.
The splashproof pump is offered as a complete set with PVC hose and hose nozzle in different immersion lengths from 500, 700 up to 1000 mm. The pump thus can be used for different vessels like small canisters up to 200 l drums.