Colfax Fluid Handling Offers New Precision Gear Pumps
Colfax Fluid Handling announces the new BB PEP Series precision gear pumps from its Zenith Pumps brand. The new design updates and enhances the original Zenith PEP (polymer extrusion pump) design.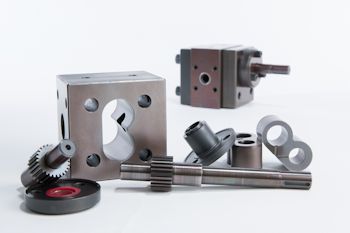 The new pumps offer manufacturers of precision plastic extrusions consistent and accurate performance through precision and repeatability. BB PEP Series pumps operate at flow rates from .2 to 25 lbs./hour with a standard maximum temperature of 600° F (950° F with special seals and fasteners).
A new, simplified design significantly reduces the number of parts required to assemble the pump, half the number required in a standard metering gear pump. This design reduces assembly time by nearly 90 percent and allows for simplified maintenance procedures as rebuild time is significantly reduced. The only tools required for assembly are a vice and two wrenches.
For example, the pump's revolutionary B-Bearing design eliminates the potential for misaligned assembly.
The pump design also reduces the amount of small parts, such as fasteners. Fastening functions are built into the bearing and sealing assemblies, easing repair tasks and decreasing the possibility of lost parts during repair.
Constructed from hardened tool steel, the BB PEP Series is built for long service life and reliable performance year after year.
Picture: Using fewer parts and a simplified design, including the revolutionary B-Bearing, the new BB PEP Series precision gear pumps from Colfax Fluid Handling's Zenith Pumps brand offers consistent, accurate performance for precision plastic extrusion manufacturing. (Image: Colfax)