ClydeUnion Pumps Awarded Contract to Supply Spanish Nuclear Power Plant with Seismic Firewater Pumps
ClydeUnion Pumps, an SPX Brand, received a contract to supply a specialised fire protection pump for the Iberdrola S.A. Cofrentes nuclear power plant in Spain. The order for the seismic fire protection pump was awarded to SPX in December 2012 by the plant operator Iberdrola S.A. with a scheduled delivery in March 2014.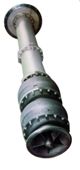 CUP-VS1 product (Image: ClydeUnion Pumps)
The CUP-VS1 vertical multi-stage pump run by diesel motor, will be manufactured out of the 20,500 sqm SPX facility in Annecy, France. The pump will be designed according to ASME VIII and NFPA 20 standard for the installation of pumps for fire protection. In addition, the pump will be IEEE seismic qualification compliant. SPX's pumping technology for firefighting applications ensures that the pump operates effectively and remains functional when subjected to seismic disturbances.
The nuclear power plant, located near Valencia in Spain, is undergoing a global improvement project according to a new Spanish regulation for seismic fire protection systems in nuclear plants.
Mathieu Roussel, Regional Nuclear Sales Manager for SPX, comments: "This contract for Cofrentes nuclear power plant in Spain is a result of SPX's expertise in designing and manufacturing critical nuclear pumping solutions for our customers. Our Annecy facility in France works closely on nuclear seismic qualified pumps which position us well in this post-Fukushima growth market."