Clean Air – Full Speed Ahead!
With the introduction of the Euro 6 emission standard, manufacturers have a duty to further reduce emissions of nitrous oxides in new diesel vehicles. As a result, new technologies for improving emission control are currently in demand on the market – and Scherzinger is offering the perfect gear pump solution.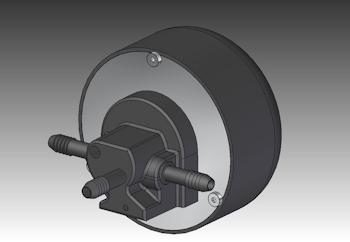 Dosing pump for AdBlue (Image: Scherzinger)
Since 1st September 2014 diesel engine manufacturers have had to reduce the emission of nitrous oxides from 180 to 80 mg per kilometre.
To do so, manufacturers may choose to use either optimised NOx storage catalysts on special operating points or perform after-treatment of exhaust gases with AdBlue. Up to now, membrane pump concepts have primarily been used for the after-treatment of exhaust gases, but they have been shown to have design flaws when used.
And this is why Scherzinger has designed a practical gear pump solution which has several advantages and is therefore very attractive. It has been designed so that the gear pump operates a wider control range compared to conventional solutions. The product also appeals because of its higher pressure build-up for finer atomisation in the exhaust gas system. The low pulsation operation and longer service life mean that this gear pump is a real top performer.
The gear pump has already proven to be reliable in endurance tests and this is why Scherzinger at present supplies renowned diesel engine manufacturers who need between 150 and 30,000 pump systems per year.