Choosing the Right Safety Shield Is Now Even Simpler
Preventing harmful spray-outs from failing pipe joints, especially where toxic, corrosive and other dangerous liquids are involved is acknowledged as a vitally important part of plant safety.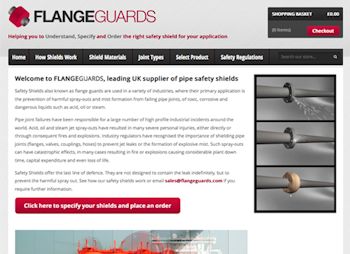 flangeguards.com plays an important role in raising awareness of the dangers to personnel, plant and the environment (Image: Flangeguards)
Regrettably, accidents do happen and pipe joint failures have been responsible for a number of high profile industrial incidents around the world. Acid, oil and steam jet spray-outs have the potential to cause severe personal injuries, either directly or through consequent fires and explosions.
Safety shields, or flangeguards, are recognised as being an effective 'first line of defence'. FlangeGuards.com aims to be the most comprehensive resource on safety shields, helping engineers to understand, specify and order the right safety shield for every application.
Flangeguards.com has recently been upgraded with new features making the process of choosing the right safety shield even easier. For example, on-screen prompts enable users to select all the necessary options, such as materials, including; PTFE Safety, PTFE Clear, PVC and stainless steel, along with joint types and pressure ratings. Once the choice is made all the relevant technical information, specifications, ratings and costs are provided and users can order on-line, normally for next day delivery.
Industry regulations such as; DSEAR, COMAH, SOLAS, IP15, REACH and MARPOL all recommend or suggest the shielding or shrouding of pipe flanges and other potential leak sources, to ensure the protection of operators and equipment along with the other objectives of minimising downtime and reducing the risks of catastrophic incidents.
Furthermore, spray control using safety shields has also been more recently employed by Process Engineers' as an effective way of reducing the size of 'zoned hazardous' areas by limiting the potential spray to the area around the pipe joint.