Calpeda extends self-priming jet pump range
Following the customer's demand for a smaller pump model CALPEDA have included in their NGX series the new model NGX 2 0.45 kW. The excellent self-priming capabilities of the pump allow to lift water from a depth of 9,5 metres in less than 2 minutes.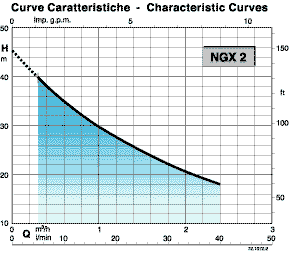 Pump performance range of Calpada NGX 2
An exclusive patented diffuser design with flow control device features the compact construction. The NGX is up to 40% smaller than conventional pumps a similar type.
The new diffuser and flow control device guide the fluid from the impeller into the central part of the pump casing, reducing turbulence and velocity, with effective use of the surrounding liquid in dampening the noise of flow.
Calpeda Facts
headquartered in Montorso Vicentino (Italy)
founded in 1959
250 employees
about 1000 pump types with powers ranging from 0.5 to 175 hp, including

close coupled and end suction centrifugal pumps
horizontal and vertical multi-stage pumps
self-priming pumps, Jet pumps
peripheral pumps
submersible sewage and drainage pumps
bore hole pumps
booster and fire-fighting sets