British Water Event: Water Industry Must Harness Power of Data
The water sector should be at the forefront of the UK's artificial intelligence and data revolution, according to Ofwat.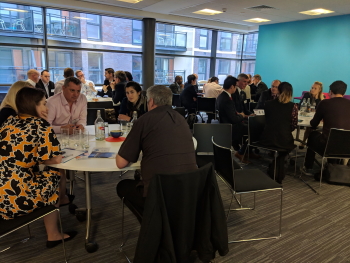 British Water's third data conference will provide a forum for peers to identify ways in which data and analytics could be applied to overcome major industry challenges. (Image source: British Water)
In its Driving Transformational Innovation report, the regulator set out high expectations when it comes to data and analytics. This, along with tough regulatory targets and the exceptional challenges arising from climate change and population growth, means effective use of data analytics has never been more critical for water.
Joe Roebuck, a director at analytics innovator SEAMS, will be chairing Data: Now & Beyond , a British Water event taking place in Leeds in October. He said: "The water sector has been set some unprecedented targets for the upcoming years, all while achieving a reduction in customers' bills - never before has the term 'more for less' been so important.
"Data analytics is fast becoming one of the most important means of innovation by which to meet these targets. It will help us achieve what may seem like the impossible. Data: Now & Beyond provides an opportunity discuss best practice but more importantly to look ahead at ways to tackle tomorrow's challenges."
Speakers from water companies, the supply chain and other sectors – including from Ofgem and Network Rail – will share information on the best way to handle data and analytics, including what tools and services are available.
Among those taking part will be Kevin Parry, head of data at Welsh Water, who said some organisations may need to develop skills and resources further, if they are to truly leverage the capability offered through data and analytics.
He said: "The improvement in data capture and sensor technology will provide us with huge datasets that can be used to help analyse the performance of our network and allows us to predict how extraneous factors may impact it.
"With this 'data deluge' comes a need to ensure we have the skilled resources in place to translate this into information to provide valuable insight and the availability of new approaches, such as digital twins, will help us better understand our network.
"Data: Now & Beyond will provide a forum for colleagues to reflect on some of our greatest challenges, and to identify ways in which data and analytics could be applied to overcome these. "
This will be British Water's third data conference, following successful events in 2017 and 2018.
Dr Mar Barista, technical manager at British Water, said: "Water and wastewater companies collect, process and report on huge volumes of data. Following the release of Ofwat's draft determinations and the challenges set in terms of cost and performance commitments, it is the right time to look at the innovative use of data and analytics that will help achieve high expectations from regulators and consumers."
The event will also include:
High level discussions between water companies, regulators and the supply chain
Talks on innovation and new technology
Workshops to encourage problem-solving and diverse thinking
Event details:
When: Wednesday, October 9
Where: Cloth Hall Court, Quebec Street, Leeds, LS1 2HA