Blackmer SNP Pumps Are Designed to Unload Raw Materials From Railcars
14.11.2008
Blackmer, a global leader in positive displacement rotary vane, eccentric disc, peristaltic hose and centrifugal pump technologies, announced that its SNP Sliding Vane Pumps are designed to efficiently unload railcars of various raw materials used in the soap and detergents manufacturing process.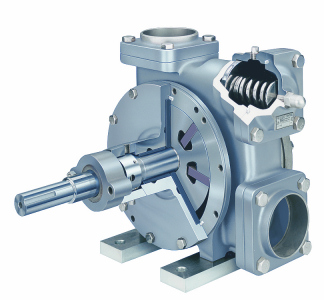 Blackmer
Ingredients such as vegetable oils, coconut oils, tallow, crude glycerins, builders, additives, surfactants, caustic fluids, and many others, are easily transferred from a railcar into the plant by the use of a SNP Sliding Vane Pump.
Due to its unique design, stainless steel SNP pumps can pull exceptional vacuum making them ideal for line stripping, tank clearing and top or bottom unloading applications. SNP pumps can handle viscosities in excess of 4,250 Cs (20,000 SSU). With capacities from 2 to 265 gpm (8 to 1,003 lpm), the complete line is available in 1 1⁄4, 1 1⁄2, 2, 2 1⁄2 and 3-inch port sizes. In addition to railcar unloading applications, SNP pumps can be used for numerous in-plant soap and detergents manufacturing applications.
The vane technology principles of the SNP pump ensure superior performance even after significant in-service time, eliminating efficiency-robbing "slip" that may occur with other pump technologies. Standard SNP pumps are constructed with self-lubricating sleeve bearings and PTFE impregnated shaft packing, as well as removable drain plugs for complete self-drainage. Options for models through 2 1⁄2-inch port size include jacketed heads (SNPJ) for circulation of steam or hot oil when handling viscous fluids and removable 2-way relief value which permits either back-to-tank or internal bypassing.
About Blackmer
Blackmer is a global leader in the design and manufacture of high quality flow technologies, including peristaltic hose, eccentric disc and rotary vane positive displacement pumps, centrifugal pumps, screw compressors, air elimination systems and sliding vane and reciprocating compressors for the transfer of liquid and gas products. Blackmer pumps and compressors are used worldwide in a variety of industries including LPG, Chemical and Industrial Processing, Energy, Food & Sanitary, Military/Marine and Mobile Transport. Blackmer is part of Dover Corporation's Pump Solutions Group.