Blackmer Provane Pumps Provide Performance Advantages For Ethanol Producers
10.11.2008
Blackmer's ProVane Motor Speed Vane Pump line is ideally suited for ethanol processing, blending and transfer applications.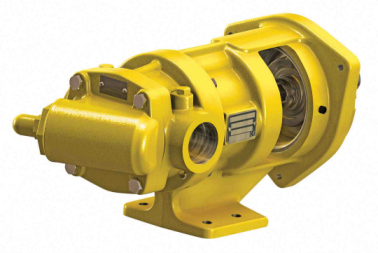 Blackmer
Designed to be the ethanol industry's most energy-efficient process pump, the ProVane utilizes self-adjusting vanes to eliminate efficiency-robbing "slip," maintaining near original volumetric output capacity and consistency even after significant time in service.
The ProVane's hydrodynamic journal bearing utilizes fluid boundary principle to provide superior bearing life, which is critical to ensuring the elimination of the most problematic challenges of light liquid transfer. Under many operating conditions, there is no bearing wear because the shaft rides on a fluid boundary to eliminate bearing-to-shaft (metal-to-metal) contact. Because friction is significantly reduced, heat build-up and energy loss are greatly reduced, resulting in higher mechanical efficiency and energy savings.
Recently upgraded with UL listed fluorocarbon elastomer (FKM) seals to allow for broader compatibility with a range of fluids, the ProVane easily handles the highly corrosive nature of ethanol at all blend levels. Available in either ductile iron or the feature-enhanced stainless steel model, the ProVane is designed for continuous duty operations in low and medium viscosity process applications. ProVane pumps are also ideal for line stripping, evacuation of heels and superior lift from storage tanks due to their proven priming and suction capabilities. The pump offers excellent efficiency at low flow rates and allows for higher operating speeds and pressures on low viscosity fluids compared to other types of PD pumps. The ProVane pump is also capable of low flow, high head applications on low viscosity fluids where centrifugal pumps cannot effectively operate.
The ProVane delivers reliability, reduced maintenance and operating speeds up to 3,600 rpm with capacities from 6 to 100 U.S. gpm (23 to 379 liters), and is available in five sizes ranging from 3/4" to 2". The ProVane does not require a gear reducer, providing upfront equipment, installation and energy cost savings, and a smaller footprint than that of a conventional pumping unit. An optional Relief Valve is available to help protect the pump in the event of an over pressurization situation. Blackmer's patented Cavitation/Noise Suppression Liner controls the wear effects of cavitation and reduces noise levels up to 15 dbA.
About Blackmer
Blackmer is a global leader in the design and manufacture of high quality flow technologies, including peristaltic hose, eccentric disc and rotary vane positive displacement pumps, centrifugal pumps, screw compressors, air elimination systems and sliding vane and reciprocating compressors for the transfer of liquid and gas products. Blackmer pumps and compressors are used worldwide in a variety of industries including LPG, Chemical and Industrial Processing, Energy, Food & Sanitary, Military/Marine and Mobile Transport. Blackmer is part of Dover Corporation's Pump Solutions Group.