Blackmer GX/X Series Pumps Help Optimize Oilfield Operations
Blackmer is pleased to announce that the design of its GX and X Series Sliding Vane Pumps make them ideal for oilfield fluid-transfer applications that require the safe, effective and efficient handling of non-corrosive industrial liquids and petroleum products, such as gasoline, fuel oils and lube oils.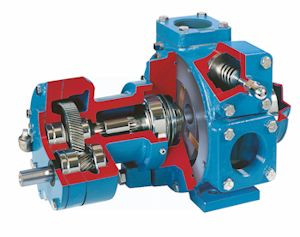 Blackmer GX/X Series
Their high-suction capabilities make them especially suited for stripping lines and removing the heel from storage tanks, railcars and transport tankers.
Both models are constructed of cast iron and operate via Blackmer's unique sliding vane pumping principle that allows the pump to self-adjust for wear in order to maintain desired flow rates, while simultaneously offering excellent self-priming and dry-run capabilities. They also feature specialized mechanical seal and ball-bearing construction for maximum reliability and a symmetrical bearing-support system that assures even loading and longer wear life. Additionally, the pump's external ball-bearing construction isolates them from the pumpage in order to minimize any contamination risks. An adjustable relief protects against excessive pumping pressures, while the pump's vanes can be easily replaced without needing to remove the pump from the piping system.
The GX Series pump also offers an integral head-mounted gear-reduction drive with oil-lubricated and hardened helical gears. The pump's gear shafts are supported at both ends by ball bearings for smooth operation and long life while a splined reducer and pump shaft with dowel-mounted reducer case enables simplified pump and reducer alignment. The reducer can be rotated on the pump head to accommodate a wide variety of motor sizes without the need for shimming. All of these features make the GX Series pump the first choice for oilfield operators who need economy and compactness in their pumping setup.
Both the X and GX Series pumps are available in four port sizes: 2-, 2.5-, 3- and 4-inch.