Big Additions to Armstrong`s Integrated Heating Solution Range
Armstrong has extended its award-winning MBS range of integrated heating solutions.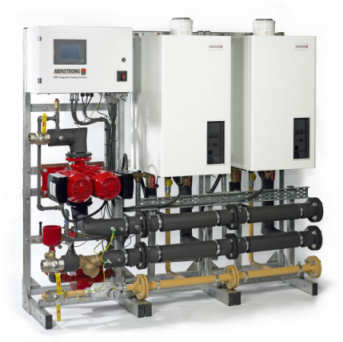 MBS range
Previously available for applications from 120 to 320kW, the MBS modular solution (which solves the problems associated with maximizing efficiency of condensing boilers) can now be used for applications up to 690kW.
The MBS incorporates fully modulating boilers, variable primary pumps, automatic fill/pressurisation unit and integrated controls, all pre-specified for optimum efficiency, and pre-assembled for rapid installation on site. It enables excellent boiler efficiencies to be achieved and exceeded without time-consuming mixing and matching of system components.
Instead of treating the condensing boiler in isolation, the MBS matches pumps, controls and hydraulic system design. This ensures compatibility of components and enables specifiers to meet and exceed the boiler efficiency levels required under the new Part L of the Building Regulations with energy-efficient, low carbon performance designed into the system as standard.
Part L2 calls for minimum overall boiler efficiencies of 84% in new build and 80% in existing buildings. The MBS can achieve overall seasonal efficiencies of 94%, providing significant energy savings and carbon reductions throughout the lifetime of the plant. As the system is fully integrated and pre-assembled, additional system design input is not necessary, and installation and commissioning can be achieved much more easily and quickly.
The MBS is pre-designed in modules capable of fitting through a standard doorway. Each module can be manoeuvred by one person without specialist lifting equipment, just using, for example, a sack barrow. The modules bolt together and all power and control wiring is plug and play so, once in place, the fully integrated system can be quickly and easily installed. For example, just 45 minutes after offloading the modules, we can expect a 160kW MBS to be fully piped, fully wired (power and control) and ready to take the incoming electrical feed and external pipework connections. The layout of the modules is flexible to suit on-site requirements.
The MBS is suitable for both new build and refurbishment projects and is perfectly suited to commercial buildings and public sector sites such as schools, or for centralised boiler applications in apartment blocks. By optimising the benefits of modern condensing boilers, and combining these with the high-efficiency of variable speed pumping technology, the Armstrong MBS delivers outstanding levels of performance. Intelligent inverter driven pumps are utilised to provide accurate variable flow, without the need for differential pressure sensors, offering low system complexity with high-efficiency and reliability. When applied to integrated condensing boiler systems, flow rate is automatically modulated to match building load whilst maintaining the minimum flow rate across the boiler. By reducing flow rate and supply temperature, terminal control valves remain open reducing system pressure drop and wasted electrical input.
These advantages enable specifiers to meet future efficiency requirements as well as those of today and 'future-proof' their designs to meet the forthcoming Energy-using Products Directive.