BEWG Launches International Headquarters in Singapore
Beijing Enterprises Water Group Limited announced the official opening of its international headquarters in Singapore, operating under the name of BEWG International Pte. Ltd. ("BEWG International") for the current and potential investments in overseas market outside China that is estimated to be valued up to S$2 billion in aggregate.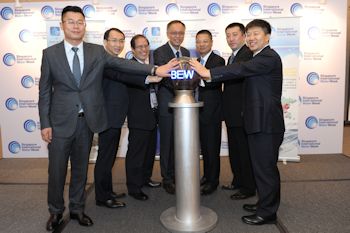 Beijing Enterprises Water Group Limited
BEWG, a large-scale group which provides a broad range of water services and environmental protection services in China, will focus its core businesses of environmental water protection services through its market-oriented approach, strong capital foundation, advanced technology and firm management practices.
The announcement took place in conjunction with the first day of the Singapore International Water Week (SIWW), the global platform to share and co-create innovative water solutions.
The announcement also is in line with BEWG's global expansion plans and solidifies its string of successful equity acquisitions, Transfer Operation Transfer (TOT), Build Operation Transfer (BOT), entrusted management, and to expand its leading market share.
BEWG is also recognised within the industry as one of the leading comprehensive water environment service providers with expertise in project design, environmental protection facilities, engineering consulting services, multiple advantages in core technology, research and development, strategic alliances, as well as project management and financing channels.
The opening of its international arm in Singapore cements Singapore's position as a global Hydrohub and the window to the global water industry. The announcement, which took place in conjunction with SIWW, also reaffirms the event contributes to the long-term sustainability of the water industry, opening doors to key markets for local and global companies.
Hu Xiaoyong, Chief Executive Officer of BEWG, said, "One of our key long-term strategies is to increase BEWG's market share in the burgeoning global water industry through international development and expansion. Our global expansion plans are founded based on our strong position as the industry leader in water market in China. As we look towards focusing on the water technologies and solutions industry beyond China, Singapore became a very natural choice for the setup of our international headquarters, given its proven track record and continuous initiatives in R&D for disruptive water technologies as well as supporting policies of governmental authorities."
"Singapore is regarded today as a global hydrohub with water companies conducting high-value activities across the entire value chain. Water companies can leverage Singapore's strengths in innovation and commercialization, high-skilled workforce, as well as our sophisticated financial market to build up critical capabilities and address global markets. We warmly welcome BEWG's decision to set up its international headquarters in Singapore which also reflects the attractiveness of Singapore as an internationalization platform for leading Chinese enterprises," said Mr Lim Kok Kiang, Assistant Managing Director, Singapore Economic Development Board (EDB).
"Through an integrated approach to water management and investments in water R&D over the past 40 years, Singapore has turned its water vulnerability into a strategic asset. Today, Singapore is recognized as a leading global hydrohub with more than 130 water companies and 28 R&D centres. BEWG's investment in Singapore is testament to the thriving water sector here and I am confident that its presence will add more vibrancy to the water eco-system in Singapore," said Mr Tan Yok Gin, Deputy Chief Executive of Operations, PUB.
BEWG currently owns, manages and operates over three hundred water supply plants and sewage treatment plants in China, Malaysia and Portugal, with daily design water treatment capacity exceeding 20 million tons per day. This capacity and breadth of operations demonstrate the Group's successful accomplishments in its nationwide strategic layout and establishing a strong presence in the overseas market.
Over the years, BEWG has been consistently awarded "China Water Service Outstanding New Enterprises", "Best Water Business Enterprises in China", and consecutively ranked number one in the "Top 10 influential Enterprises in the Water Industry" from 2010 to 2013. Most recently, BEWG was also selected as one of the top four in the Water Company of the Year category at the Global Water Summit in Paris organized by the Global Water Intelligence.