Baseplates Protect Pumps and Motors in Harsh Industrial Applications
Pump/Motor Baseplates and Guards from Hydra-Cell Industrial Pumps, Wanner Engineering Inc., are a new tool designed to facilitate easy pump and motor installation, while providing rugged protection, in harsh industrial applications.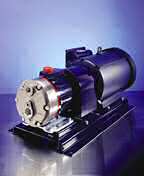 (Source: Hydra-Cell)
Available for size 56 through 326 NEMA motor frames, these baseplates/guards feature heavy gauge construction of powder coated steel or 303 grade stainless steel. They are ready to assemble, and come complete with all bolts, guards and shims, as well as fully threaded mounting holes. Customized versions are available.
For immediate Hydra-Cell pump information, including product information, parts manuals, technical documentation, CAD drawings and more, visit