AxFlow Introduces the New Eclipse Series of Metallic Gear Pumps
AxFlow has introduced Pulsafeeder's new Eclipse Series of Metallic Gear Pumps. With 12 different metallic and non-metallic pump models, the Eclipse family of gear pumps addresses a wide variety of chemicals, connection sizes and flow ranges for water treatment and chemical processing applications.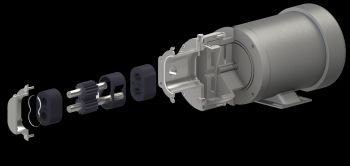 AxFlow
The Eclipse family of gear pumps features a patented front pull-out design that makes routine maintenance faster and easier, with a minimum number of tools required. The Eclipse series features the fewest number of parts compared to any other external gear pump on the market. Pulsafeeder's KOP (Keep-on-Pumping) kits provide all of the spare parts required to further simplify maintenance and minimize downtime.
The new versions of Eclipse offer enhanced performance and new flange options. Eclipse now comes in two different types of metallic gearing - Alloy C and 316LSS - for addressing higher temperatures up to 232°C and wider viscosity ranges for process chemicals.
Each member of the Eclipse series is magnetically driven, with no seals to wear or replace, providing the safe and leak-free handling of highly corrosive fluids in a wide range of temperatures.
"The true value and advantage of the Eclipse line is realised when customers consider the performance, the reliability and the simplicity of maintenance required over the life of the pump," says AxFlow Product Manager Richard Charlton. "With the Eclipse family, we're providing customers in the water treatment and chemical processing industries with a flexible solution to address any of the chemicals they need for their processes, and we're doing this at a price point and total overall value that no other pump manufacturer can match."
The complete line of Eclipse Gear Pumps includes the 02, 05, 12, 25, 75 and 125 models in metallic and non-metallic configurations.