Aussie Ups Jetter Safety
In a key move to assist plumbers in complying with new safety standards for high pressure drain cleaning and jetting equipment Australian Pump have upgraded their popular range.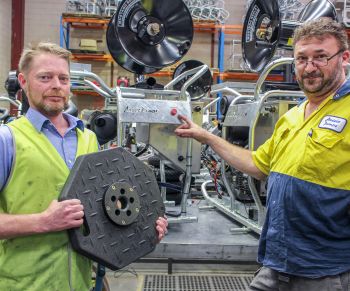 Aussie Pumps
Effective as of September 2016 production all Aussie Cobra and King Cobra machines are fitted as standard with an emergency stop (E stop) and are being supplied with a heavy duty Aussie Safety Plate.
The E stop enables operators to shut down the machine easily in the event of an emergency. The upgrades to these 4,000 psi and 5,000 psi machines are all part of Australian Pump's commitment to keep plumbers safe as they unblock choked drains and sewers.
"These changes are just the beginning of a major safety awareness programme we are launching to make users more aware of safety standards and the very real dangers in using high pressure cleaning equipment" said Aussie Pumps' Operations Manager, Hamish Lorenz. "We equip all Cobra Jetters with hose protectors and are offering optional foot valves to align with the latest safety standards adopted by Australia and New Zealand" he said.
Australian Pump has been at the cutting edge of operator safety offering a full range of personal protection equipment including gloves and boots rated for use of up to 7,000 psi. Gloves are made from Dyneema, a unique high strength material that can resist pressures of up to 7,000 psi.
"We've even got overalls, jackets and trousers in Dyneema available in either standard grey or high-vis" said Lorenz.
Australian Pump is working on a free safety user's guide for drain cleaning designed to assist plumbers in compliance awareness and in staying safe in the workplace.
"Here at Aussie Pumps we are absolutely committed to a continuous programme of improving safety awareness for users of all brands of jetting equipment. As our jetter sales increase in the export market we hope to introduce Australian safety standards to South East Asia" said Lorenz.
Further information including a free safety package is readily available from Australian Pump Industries.