Aussie Pump's QP Transfer Pumps Pumped Plantation for Growth
When CRT member BGA Agriservices in Ayr were contracted to supply pumps for a Tropical Forestry Services (TFS) project, they selected Aussie Quik Prime gushers for the job. Nicknamed the 'Aussie Drought Busters', Aussie Pump's QP transfer pumps deliver a reliable, efficient solution for moving large volumes of water.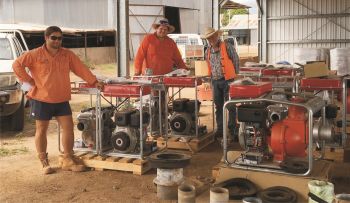 The team from TFS (from the left, Ben Chesneau, Tyson Cavallin & William Vener) take delivery of the Aussie QP Drought Busters for the irrigation of the new Burdekin sandalwood plantation (Image: Aussie Pumps)
TFS are converting sugar cane farms in the Dalbeg & Millaroo area of Burdekin, QLD, to Indian sandalwood plantations. The company harvests the wood to produce oils and distillates that are used by a range markets including pharmaceutical, fragrance, carving and incense.
A Netafim drip irrigation system is being set up on the 1,100 hectare site to supply the young saplings with water for the first 12 months. The Aussie 6" & 4" QP diesel powered transfer pumps draw water for the system from irrigation channels supplied by the Burdekin River.
The Aussie Quick-Prime pumps offers flows of up to 2900 litres per minute and heads of up to 28m. The pumps will self-prime from a huge 8.4m direct lift, enabling suction from dams, wells and creeks. Recent on-farm tests demonstrated the pump priming from a 3m lift in less than thirty seconds!
"TFS are mounting the big Aussie gushers on trailers to enable them to be easily moved to new areas as required," said Justin Martin from BGA Agriservices. "The pumps fast self-priming capability together with the quick coupling connectors means they are easy to deploy and painless to set up in the new location," he said.
Powered by genuine Yanmar diesel engines, the pumps offer low fuel consumption and maximum pump performance. The pumps, running up to 6 hours a day, have been fitted with 19 litre long range fuel tanks.
The QP pumps feature heavy duty cast iron impellers and volutes. The impellers have large open vanes to allow spherical solids to pass straight through the pump without damage. A heavy duty mechanical seal is standard equipment.
The pumps come standard in heavy duty galvanised roll frames with anti-vibration mounts. Free coupling and strainer kits are also provided with every pump. The pump body components are made from high grade marine aluminium ensuring long life. The Aussie QP pump range has Australian Pump Industries unique, five year pump end warranty.
The versatile Aussie "Drought Busters" are suitable for anywhere needing high volume water transfer. They can be used for fast fill tanker applications, tanker batter spray, flood irrigation and dewatering. Other on-farm applications include dust suppression and wash and flush stock crate clean-out.