Atlas Copco Plants 600 Acres of Forest in Burkina Faso
Atlas Copco's "VSD for Life" campaign has resulted in a forest of 250 000 trees, covering an area of 600 acres. During this worldwide sales campaign, Atlas Copco donated trees to WeForest, a non-profit association, and to their reforestation project in Burkina Faso.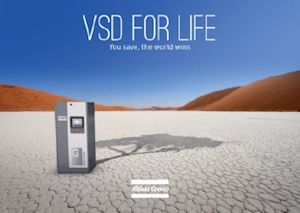 ATlas Copco
The campaign encouraged the sales of Variable Speed Drive compressors, a particularly energy-efficient type of compressor. The results of the campaign far exceeded the expectations, prompting Atlas Copco to extend the campaign until the end of the year.
With the VSD for Life campaign Atlas Copco is not only encouraging the sales of its most energy-efficient type of compressor, it also wants to send out a clear signal that sustainability is in the company's DNA. Bert Derom, Vice-president Marketing from the Industrial Air Division comments: "With this campaign, we don't only want to preserve nature, we want to create it. Our donations to WeForest support reforestation in Burkina Faso, while our sales of Variable Speed Drive machines enforces greener, more sustainable factories for our customers worldwide."
Campaign until end of the year
Atlas Copco decided to prolong this successful campaign until the end of 2014. The same product ranges will participate: all GA VSD(+) ranges up to 90 kW and for every VSD kilowatt sold, Atlas Copco donates one tree to WeForest. Customers receive an electronic certificate of their contribution and every participating machine is marked with a decal.
Customers save energy, Burkina Faso wins trees
The 250 000 trees, and all successive donations, will be part of the "Great Green Wall", the replanting of the native forest that will reverse the decline of biodiversity by pushing back the desert. Moreover, the new forest will promote sustainable, local economy and empower local farmers and their families. WeForest is an international, apolitical non-profit organization with activities in over 12 countries.