Atlas Copco Opens Expanded Indian Manufacturing Plant
Atlas Copco inaugurates an expanded manufacturing plant in India that will further boost productivity for mining customers.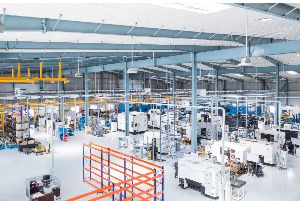 Atlas Copco plant in Hyderabad, India (Image: Atlas Copco)
Atlas Copco has invested MINR 800 (MSEK 110) in the expansion of the factory in Hyderabad, India, doubling its capacity. The plant manufactures drilling consumables for surface mining applications. The expansion of the plant, which already employs some 200 people, will generate employment for about 35 additional people.
"The expanded factory will strengthen our delivery process, enhancing productivity for our customers globally," said Helena Hedblom, President of Atlas Copco's Mining and Rock Excavation Technique business area. "It will also ensure development of competitive products at a faster pace."
The new facility includes a world-class R&D test center for rock drilling products, enabling Atlas Copco to further increase customers' competitiveness.