ASV Stübbe Opens Modern Pump Test Bay
The German pump manufacturer has invested two million Euro in a state-of-the-art pump test bay. Vertical as well as horizontal centrifugal pumps with power ranges of up to 350 KW and a flow rate of up to 1,200 m³/h can be tested almost fully automatically starting immediately.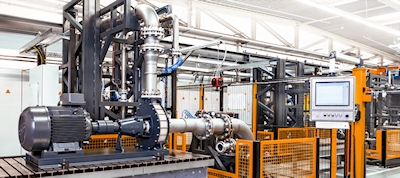 ASV Stübbe Opens Modern Pump Test Bay (Photo: ASV Stübbe)
The test bay which is made up of two test benches for horizontal pumps and a test bench for vertical pumps was specially developed together with test system specialists »etewe« who are based in Karlsruhe, Germany, to meet the company s specific demands and requirements. During the development process, ASV was not only concerned with being able to test pumps of various sizes and designs automatically, but also wanted to improve the production processes. At the same time additional capacity was created to develop even more powerful and efficient pumps.
The monitoring of the entire testing process with a camera is one of the particular highlights of the new test bay, which makes the detection of leaks far more simple. A static pressure test as an extreme test during an idle is a further plus for the operating safety of the pumps.
All the measured data of each pump are transferred automatically to the ERP system in order to carry out a target-actual comparison with the demands and requirements of the customer e.g. in terms of the pumping height and pumping volume as well as delivery rate. In addition to the aforementioned tasks carried out by the system, it also monitors other parameters such as noise level, vibrations, NPSH values and the actual torque of the pump shaft.
Besides the test bay, a new pump production facility was taken into operation. It is designed that all production lines run in the direction of the testing facility. All drawings are available at the workstations in digital form. The permanent documentation of how production is progressing enables the continuous target-actual comparison with the planned delivery date.